Monte Generoso
In the middle of a nature reserve known beyond the borders of Switzerland, Monte Generoso rises strikingly. Majestically enthroned on the rocky mountain plateau is the new building "Fiore di pietra" (stone flower), built by the famous architect Mario Botta, in whose windows the breathtaking panorama is reflected. Two light-flooded…
Monte San Giorgio
Just a few steps from the top station of the funicular at 933 m, on a sun-kissed natural terrace above Lake Ceresio with a view of the entire Gulf of Lugano, you can enjoy the wonderful pre-Alpine panorama. This breathtaking view reaches as far as Monte Rosa and the Bernese and Valais Alps.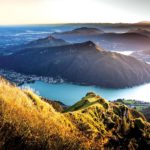 Monte San Salvatore
From the summit, a hiking trail leads down to Ciona (Carona) or to Pazzallo and Paradiso. It leads through an intact, relaxing natural landscape and at various vantage points gives a view of a magnificent panorama. Those who are a bit more sporty and courageous, and who also have the appropriate equipment, can practice climbing on the "via ferrata".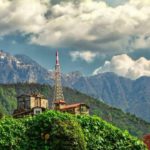 Walk to the southernmost point of Switzerland
Beautiful circular hike from Seseglio through vineyards and forests to the southernmost point of Switzerland. Gentle hills and picturesque wine-growing villages characterize the southern tip of Switzerland. The Mendrisiotto is famous for its top-quality Merlot wines. The circular trail starts and ends in the hamlet of Seseglio at the foot of…
Parco San Grato
Der botanische Park besitzt ein einmaliges natürliches Ambiente, das dem Besucher den Eindruck vermittelt, eine verzauberte Welt zu betreten, wo Farben und Düfte ein unvergessliches Erlebnis geben…
Dinosaur Museum and Excavations Tremona
A visit to our area and the Fossil Museum will allow you to discover the fascination of a long extinct world that dates back over 200 million years. Monte San Giorgio is one of the most important fossil deposits in the world of the Middle Triassic, a geological period from 247 to 237 million years before today. The fossils of the mountain, known for their diversity,…
Swissminiatur
Swissminiatur is the largest open-air miniature museum in Switzerland.
The park is located in Melide on the shores of Lake Lugano, surrounded by the impressive mountain scenery of Monte Generoso, Monte San Salvatore and Monte San Giorgio; the latter is a UNESCO World Heritage Site. Enjoy some time out in a harmonious, natural environment.
Galleria Baumgartner
Toy trains from all times, curious unique specimens, true-to-the-original, lovingly handcrafted and replicated models allow an excursion – a train ride! – into Swiss and international railroad history.
FoxTown
The largest Factory Store in Southern Europe, is located in Mendrisio, just 15 km from Lugano, where 160 stores, with 250 brands, offer clothing, sportswear, home appliances, fashion accessories and gifts at affordable prices, with year-round discounts from 30% to 70%.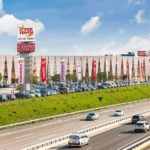 Ristorante Ticino
The restaurant is managed by Michelle Lustenberger, together with a wonderful team of family and staff. The Restaurant Ticino wants to be a place for its visitors to feel at home and to feel the passion not only for fine food and drinks, but also for community and art. Therefore, the Restaurant Ticino also organizes cultural events in collaboration with profimedia from time to time.